Rare Breed Pigs
70% of the pork that is sold in Britain is reared indoors, just 5% is free range like ours, born and reared outdoors in fields.
The remaining 25% is split between "outdoor bred" and "outdoor reared"
What does it mean when supermarkets advertise "Outdoor Bred" and "Outdoor Reared?"
"Outdoor Bred" - pigs are born outside in fields, where they stay for 8 weeks until weaned and are then moved indoors for fattening
"Outdoor Reared" - Piglets live outside for just half of their lives (3 months for a commercial breed) and are then brought into open walled sheds until slaughter.
Here at Wildwood we specialise not in the mass produced commercial breeds, but the slower growing traditional breeds, which are now classed as rare breeds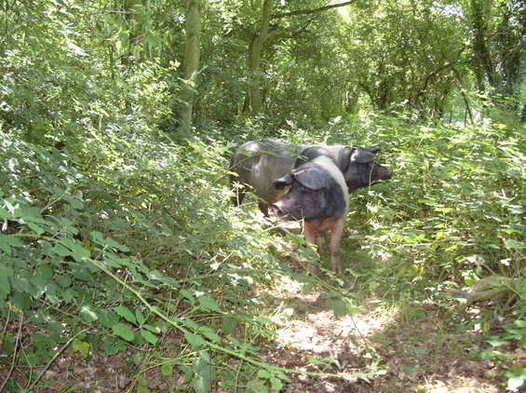 The Saddlebacks were recognised in 1967 when the Wessex saddlebacks and the English breeds were amalgamated.
We currently have two breeding sows Blossom and Buttercup and a boar, named Boris. They are placid pigs with lovely natures.
All pigs are registered with the British Pig Association and are pedigree, their litters are also all birth registered with the association to monitor numbers of the breed.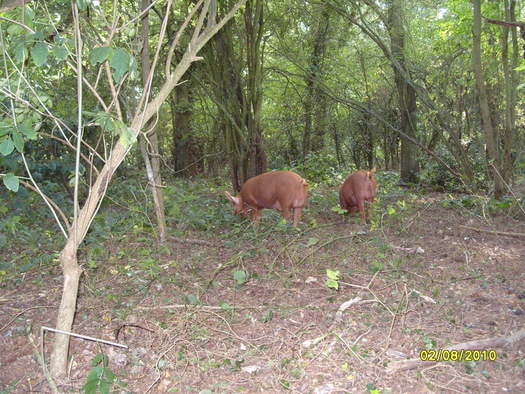 Our Rare Breed Tamworth pigs are the oldest pure English breed.
We have three sows, Amber, Mango and Honey and a boar named Rusty.
They are a feisty breed and have a covering of ginger hair. These are also all registered with the British Pig Association
Our pigs are slow growing and eat natural food containing no growth promoters or hormones, giving the meat succulent full
flavour
.